09-12-2019
Department of EEE has organized four day faculty development program from 09-12-2019 to 12-12-2019 on Mipower Simulation Software in collaboration with Power & Research Development Company (PRDC), Bangalore.
09-12-2019
Department of CSE has conducted 2 week AICTE sponsored Faculty Development Program on Machine Learning to Deep Learning for Data Analytics using Python from 25-11-2019 to 09-12-2019. Dr.V.Ravi, Professor, IDRBT (Institute for Development & Research in Banking Technology) was the chief guest for inauguration. Resource Persons for this FDP are:
Dr.T.Ramakrishnudu, Assistant Professor, Dept. of CSE, NIT-Warangal
Dr.K.Rajesh Prabhakar, Corporate Trainer on Machine learning, NMIMS, Hyderabad
Dr.Md.Imran, Professor, NGIT, Hyderabad
Dr.Avatharam Ganivada, Assistant Professor, School of computer & Information Sciences, HCU.
Dr.Pradeep Kumar, Assoc. Professor & HoD, Dept. of CSE & IT, MANU University
24-11-2019
Institute has hosted National level conclave on Cyber Policing Best Practices meet. Sri Sanjay Sahay, IPS, Additional DGP, Karnataka state was the chief guest for this event.
09-04-2019
Dept. of EEE in association with Power & Energy Society (PES) of IEEE has organized National Level Conference on Emerging Engineering & Technology (NCEET 2019) in which 56 technical papers were presented by various academicians throughout the nation. These papers will be published in IJR: International Journal of Research (ISSN: 2348-6848). Dr.Raju Ankathi, DRDO Scientist was the chief guest for Inaugural session.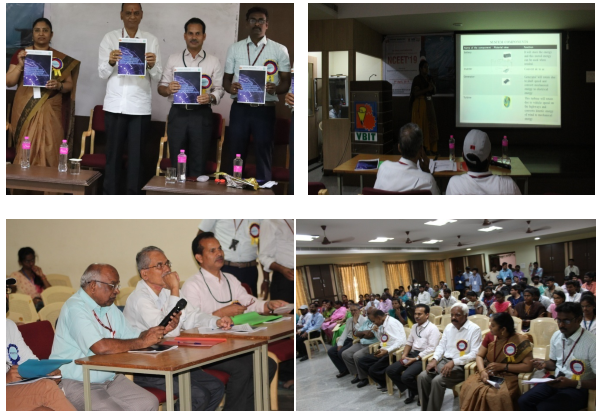 20-12-2017
Department of CSE & IT has organized Two Day International Conference on cognitive Informatics & soft Computing on 20th & 21st December, 2017 in which 146 faculty members from various states have participated and 97 research papers were presented and will be published in Springer journal-"Advances in Intelligent Systems and Computing". Dr.Gyoo Soo Chae, Professor, Division of Information & Communication Engineering, Baekseok University, South Korea was the chief guest for Inauguration. Dr.Pradeep Kumar Mallick, HoD, Dept. of CSE was the convener for this conference.
20-11-2017
Department of MBA has conducted AICTE sponsored two week faculty Development Program on "Research Methodology in Management & social Sciences using SPSS" from 20th November 2017 to 04th December 2017 in which 70 faculty from various institutions were attended. Dr.N.V.Ramana Rao, Director, National institute of Technology-Warangal was the chief guest for the Inauguration. Dr.V.Shekar, Professor, Faculty of Management, Osmania University was the chief guest for the valedictory function.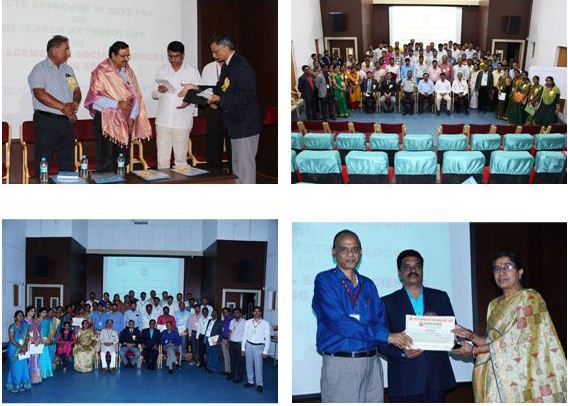 17-02-2017
Department of ECE in association with IEEE & IETE VBIT SB has organized two days National Conference on "Cash less Transactions using Computer and Communications" on 17th & 18th February 2017. Research papers were called on major areas like Computing Techniques, Communications, Networks & Security and Economy. 114 research papers were received, reviewed and published with conference proceedings.
11-12-2015
The "XXIV Congress of Andhra Pradesh Society for Mathematical Sciences (APSMS) & National Conference on Recent Developments in Mathematical Sciences and their Applications to Science and Technology" was conducted by the Dept. of Mathematics & Humanities and Sciences, Vignana Bharathi Institute of Technology (VBIT), Ghatkesar on 11-13, December, 2015. Prof. T. Papireddy, Chairman, Telangana State Council for Higher Education graced the occasion as the chief guest.
Dr. P. Kousalya, HoD of Mathematics and Humanities and Sciences Department was the Organising Secretary of the Conference. A total of 137 papers were presented in the conference of which 55 papers were going to be published in the Global Journal of Pure and Applied Mathematics.
21-12-2012
Delegates of "CARCAN2012" A National Symposium on Current Trends in Atmospheric Research Including Communication and Navigation aspects (CARCAN-2012) Delegates are seen along with Prof. Sanjeev Kumar, Chairman, DST. The Symposium was organized at VBIT Campus on 21st and 22nd December, 2012 which was sponsored by DST, MoES, CSIR & ISRO.